iTRACK Pro ADVANCE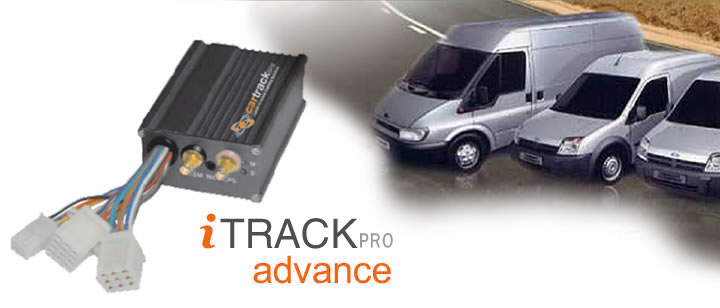 iTrackPro advance
The iTrackPro Advance is a system based on GPS/GPRS technology developed and designed for vehicle tracking and fleet management in real time.
It has a GPS module incorporated that allows to get accurate position data and use its GSM module to send the information to preconfigured server or cellphone.
Its internal memory allows to storage the GPS coordinates when there is no GPRS coverage or in time intervals configured by the user.
GSM
Remote Configuration
via GSM and GPRS
GPS
Dynamic Report
in real time

Overspeed
Overspeed alert

Geofence
Exit from a
configured zone

Download Technical Sheet 

Funcionalities
● SMS and GPRS TCP/UDP Communication.
● Tracking on demand.
● Vehicle tracking from your cellphone.
● Tracking per time intervals.
● Remote hearing through calls (optional).
● Storage when there is no coverage.
● Datalogger capabilities, 130.000 waypoints (optional).
● Movement sensor included for power saving.
● Panic button.
● Motion alert.
● Geofence configuration.
● Battery low charge alert.
● Overspeed alert.
● Remote Engine block.
Features
● Power supply: +9V to +36VDC.
● Back up Battery: 850mAh.
● Normal power consumption of 28mA/h.
● Dimensions: 104mm x 62mm x 24mm.
● Weight: 450g.
● Operation temperature: -20º to 55º C.
● Humidity: 5% to 95%.
● Frequency: QuadBand GSM 850/900/1800/1900Mhz.
● GPS Module: last GPS SIRF-Star III chipset.
● GPS Sensitivity: -158Db.
● GPS frequency: L1, 1575.42 MHz .
● Channels: 20 channels all-in-view tracking.
● Position accuracy: 10 meters, 2D RMS.
● Velocity accuracy: 0.1 m/s.
● Datum by default: WGS-84.
● Altitude limit: 18,000 meters (60,000 feet) max.
● Speed limit: 515 meters/seconds max
● Led: 2 leds to show the GPS/GSM status.
● Flash Memory: 8 MB.
● Button: One SOS button.
● Interface: 5 digitals inputs, 5 digitals outputs and 2 analogue inputs.