iTRACK Pro BRACELET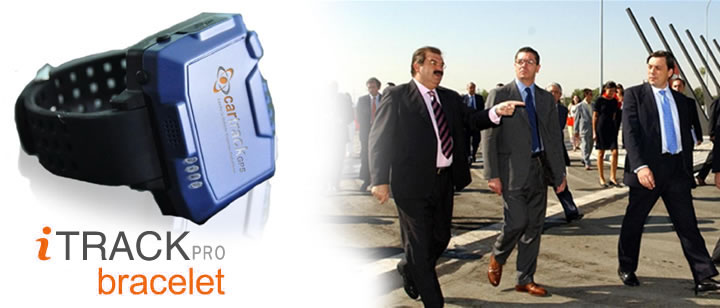 iTrackPro BRACELET
The iTrackPro Bracelet is a device based on GPS/GPRS/SMS technology to be placed on the wrist and designed for tracking, security and people location. The battery can last 5 days. It is armored, waterproof and perfect for executives or prisoners.
We offer the turnkey system, with internet monitoring optional, with free technical support option and with 1 year warranty against all faults from factory.
We give the installation, training and setting up the entire tracking central option.
GSM
Remote Configuration
via GSM and GPRS
GPS
Dynamic Report
in real time

Overspeed
Overspeed alert

Geofence
Exit from a
configured zone

Data Logger
Position data storage
QuadBand
850/900/1800/1900
Download Specification Sheet 

Funcionalities
● It supports GPRS/SMS communication.
● Standard tracking in real time through:unit PIN, location, speed, time, direction, alarm status.
● Automatic time reports, or through commands.
● Geofence protection.
● Voice monitoring.
● Panic button.
● Sleep mode for power saving.
● Remote configuration.
● Motion alert.
● Overspeed alert.
● SMS send and reception.
● Tracking through a cellphone.
● Low battery report.
● Alarm clock.
● GPRS/SMS time reports configuration.
● Bracelet detachment and opening alert.
● Bracelet ON/OFF status
Features
● GSM/GPRS Simcom module with internal antenna.
● GPS Module: SiRF III 20 channels, high sensitivity and with internal antenna.
● Scan rate: 1 Hz.
● GPRS/SMS communication modes.
● Protocole: NMEA-0183 compatible.
● Precision: 1-5 meters.
● GPS location start up: cold start 42 sec., warm start: 35 sec.
● Charge voltage: 4.5 to 5 Volts
● Standby consumption: 15mA
● Operation consumption: 80mA
● Li-Ion battery: 2200mAh (5 days)
● Microphone and speaker included, panic button, main button, on/off button, sim card holder, USB mini connector.
● Dimensions: 66 mm x 46 mm x 18 mm
● Weight: 50 gr